As the pioneers of the Solo 401k, we are always on the hunt for great, dependable, profitable investments. Are you just getting started? If so, discovering ways to invest your Solo 401k funds often feels daunting.
Dive In Thoughtfully
Are you unsure of where to start with your Solo 401k?
What is the best way to decide between what the IRS allows in the Solo 401k vs what causes trouble with the IRS?
Through our diligent research, knowledgeable contacts, and most importantly hands-on experience, we've found the best there is when investing with the Solo 401k.
To make things easy, we've condensed it down into one easy chart:
101 Ways To Get Started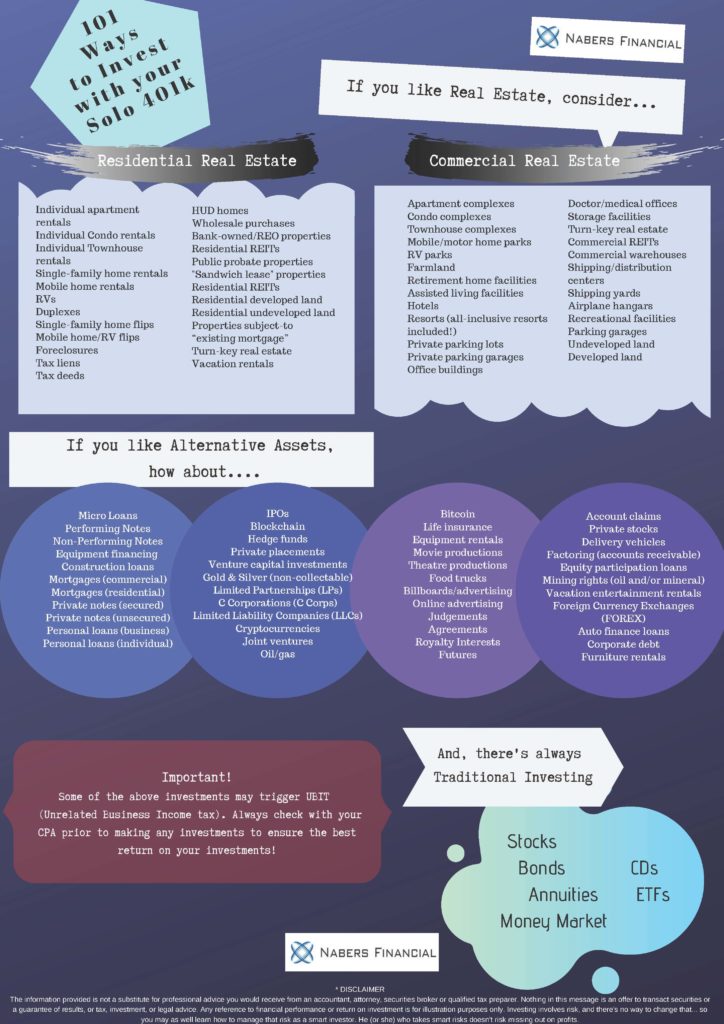 Take Control of Your Financial Future
It might seem hard to believe, but the IRS actually approves you investing your retirement funds into alternative assets. They even have a page on their website about the Solo 401k. And another resource right on their website about using retirement funds to invest in real estate.
Start Now!
If you are serious about growing your retirement account to the maximum, you need to take full control of your financial future. There are so many ways you can control your own investments and grow your retirement nest egg faster.
Check out a few great ways to start investing:
Have questions about growing your retirement account? The 401k experts at Nabers Group will help you get your retirement funds into your control, where they belong.