Did you know you can finance your dream RV, Travel Trailer, or Fifth Wheel with retirement funds? With a Solo 401k, you can qualify for a loan of up to $100,000. Loan funds may be used for any purpose, including financing a new RV of your choice.
Finance Your RV With a Solo 401k Loan
The steps to finance your dream RV are simple. Here's how to get this done:
Set Up Your Solo 401k by completing our easy Solo 401k application online
Fund Your Solo 401k by rolling over money tax-free from existing accounts, such as IRA, former 401(k), etc. You get free unlimited rollovers and very high contribution limits. We will help you through the entire process!
Take Your Loan– Take your loan up to $100,000, with guaranteed instant funding. All loan documents are prepared for you and delivered online instantly. Once you have cash in hand, you can self finance your dream RV. And the best part is 100% of the interest on the loan goes right back to your Solo 401k plan – no bank or middleman gobbling up fees or eating into your loan repayments.
How to Qualify for a Solo 401k
The requirements are simple and almost anyone can qualify for the Solo 401k. You'll need:
The presence of self-employment business activity
The absence of full-time W2 employees
These days, almost anyone can be a business owner (and most people should!). Your business can be any structure, including 1099-contractors, sole proprietorships, LLCs (single & multi-member), S-corp, C-corp, partnership, not-for-profit corporations, professional corporations, and more.
Some common examples of businesses are:
Attorneys
CPAs
Real estate agents
Consultants
YouTubers
Bloggers
Amazon Resellers
Uber/Lyft Drivers
Software developers
Independent sales reps
If you work in your small business full time, you should definitely have a Solo 401k! And, if you work in your business part-time or on the side, you can still have a Solo 401k. Yes, it's OK to have a Solo 401k plan even if you work a "regular" day job. You are allowed to have a Solo 401k and workplace 401k at the same time.
Let's review a couple case studies from Solo401k.com clients who are hitting the road in their new RV.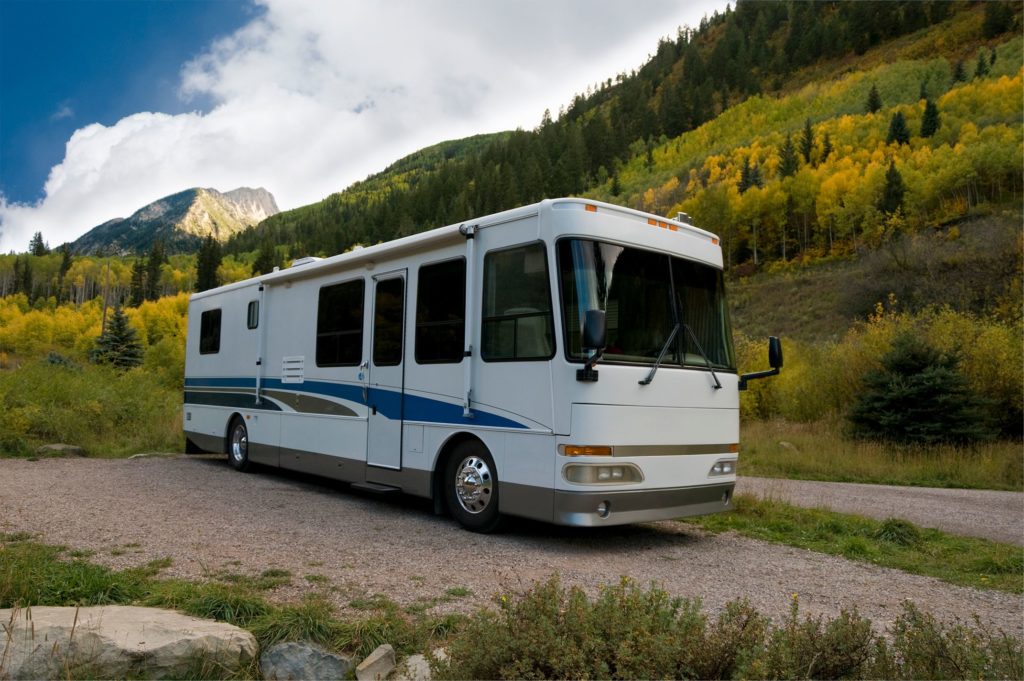 Case Study: Bob & Joanne Finance a Motorhome
Bob & Joanne just retired from long and fulfilling careers. Their kids are out of the house and have started their own families. Bob & Joanne love their grandchildren, but don't get to see them as often as they'd like now that the kids live in different states.
Even though he's retired, Bob still does some sales consulting for old clients. He's making about $25,000 per year. It's not enough to pay all the bills in their big house. Fortunately, Bob has a pension from his old job, so he and Joanne don't have any trouble making ends meet.
One day, Bob & Joanne decide they'd like to hit the road for an adventure. They're ready to downsize (the house is too big anyway, now that the kids have moved out). So, they put the house on the market and decide to buy an RV.
Because Bob is doing sales consulting on the side, he's making money and is considered a small-business owner. He gets 1099-MISC income from his consulting clients and files his taxes as a sole proprietorship. Bob sets up his Solo 401k with Nabers Group, and rolls in about $250k from his old employer 401k plan. Fortunately, this will allow Bob to take the full $100,000 tax-free loan from his Solo 401k.
Bob & Joanne decide on a 37-foot Newmar Kountry Star, which costs about $320,000. Bob & Joanna have about $400k in equity from the sale of their house, but they don't want to use all their cash. So, they decide to take a tax-free participant loan from their Solo 401k to finance the RV. Once Bob pulls out the $100k from the Solo 401k, they use $220k from the house proceeds to pay off their motorhome. Now they're ready to hit the road in style, and scoop up plenty of snuggles with the grandkids!
Case Study: Casey & Allison Try #VanLife
Casey & Allison have run their YouTube channel for about 5 years. They make videos every day about photography. Their videos include gear reviews, how to make the most out of your equipment, camera tutorials, etc. Their channel does well, and makes about $175,000 per year in YouTube ad revenue.
Casey & Allison have been living in Los Angeles, but decide they're ready for a change. The cost of living in LA keeps going up, but the quality of living doesn't seem to rise. Plus, they're ready to use their photography equipment out on the road. They decide to become digital nomads.
The couple set up their Solo 401k with Nabers Group in 2018 and have been contributing as much as possible each year. The Solo 401k high contribution limits bring down their taxable income (Solo 401k contributions are tax deductible), and help them grow their retirement nest egg.
Casey has about $100,000 and Allison has $50,000 in their Solo 401k, mostly in cash. They weren't sure where to invest, so the funds have just been sitting in their 401k trust bank account. The Winnebago View/Navion (built on a Sprinter van chassis) costs about $155,000. Casey decides to pull out the full $100k loan. Allison decides to pull out $25k. Because they each contribute to the Solo 401k, they can each take the loan. They pull out $125k total, which means they only need to pay off about $30,000 for their Class C Motorhome. That's a payment they can easily handle with their YouTube earnings. Time to get out and explore!
Steps to Success to Finance Your RV:
You have until September 22nd to take up to 100k loan from your old IRA or 401(k) Money! 
NO TAX Consequence
No bank or underwriting required; Zero loan fees
​Instant approval and funding from your rollover retirement funds (IRA, 401k, 403b, 457, TSP, etc)
​Loan amount up to $100,000
​Spouse loan amount up to an additional $100,000
​Use loan proceeds for any purpose
​Pay 4.25% interest into retirement savings instead of to a bank
Contact Us for a Free Consultation
Our service forms your self directed retirement plan. We provide the tools so you control your self directed retirement plan and issue the loan to yourself in accordance with IRS guidelines and approved documents. We create your plan. You create your destiny.