From Nabers Group CEO, Jeff Nabers:
When I started studying the Coronavirus outbreak, I thought it was just a mild flu.
Here are 3 reasons why it's not.
#1: It can be contagious in a person for 14 days before symptoms – The flu doesn't do that.
The mildness is a blessing and a curse. It's a blessing because most people who get Coronavirus end up having mild symptoms and feeling better. It's a curse because mild symptoms spread faster. SARS didn't spread fast and far because it's victims died quickly before they could spread it. Coronavirus appears to be spreading fast (a doubling time of 6 days) and far. Some people are getting it who didn't travel to China (see: California man who died of Coronavirus had it before boarding his cruise ship).
This makes it possible that we currently only have a window into how far the virus had spread 2 weeks ago, even though it doubles every 6 days. How far it has spread today may only be something we will discover in another two weeks. The flu doesn't do that.
#2: The U.S. confirmed case count is inaccurate.
A confirmed case comes from a positive test, but there has been almost no testing in the U.S. compared to other countries. The CDC demanded they create their own tests, and then those tests were ineffective so they stopped using them.
Now we are 6+ weeks behind. In the next 2 weeks, we're going to see Coronavirus confirmed cases increase exponentially, simply because widespread testing is finally happening. Once that data comes in, we'll have the first opportunity to see how fast it's really spreading in the U.S. Until then, we've been flying blind.
#3
: Even if the virus fizzles out, it already pricked the mega bubble in the financial system – The flu doesn't do that.
The absolute best case scenario for our health still has strong potential to lead to an economic recession (40-60% drop in asset prices) or depression (60-75% drop in asset prices). This affects all investments, including real estate. Here's why…
Over the last 10 years, a mega bubble formed in the global financial system. This affects all assets and all people. Now it appears the virus popped the bubble. Supply chains are disrupted. Panic is gripping markets. The 10 year treasury bond yield just dropped faster and harder than ever seen in history: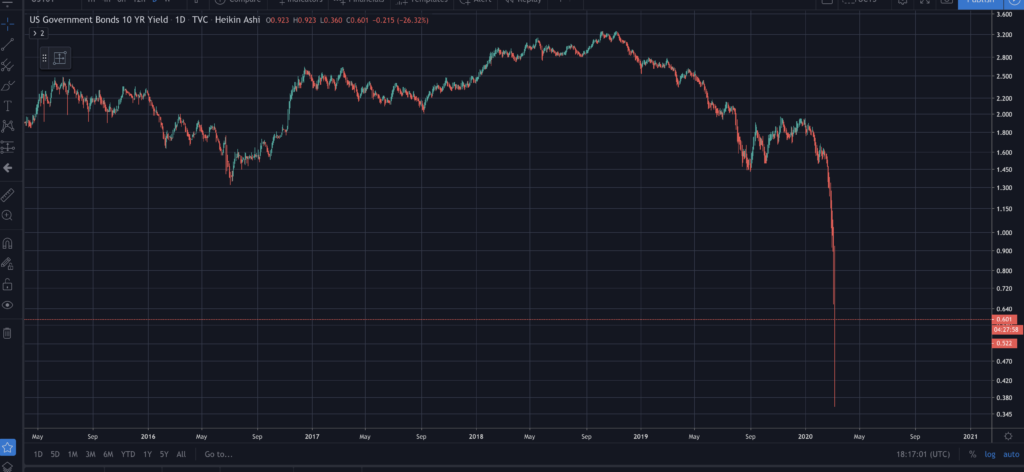 This is a big deal. The 10 year treasury bond yield is the indicator for what's going on in the economy. Right now it's screaming "recession" or possibly even "depression."
Our economy is based 70% on consumption, which was never going to work long term anyway. Now the supplies to our consumption are going into shortage. Factories in China are closed down or producing at a fraction of normal capacity. People are going into fear.
The fear is the real problem. Emotions have real consequences in asset prices and in the real economy. That's why I'm sounding the alarm. I've been researching and putting the pieces together for months. I didn't decide to speak out until the risks became severe, and chances are the crash has only begun.
While nobody knows exactly what will happen, "this is just the flu" is wrong. Please take this seriously as there is massive downside potential. The financial consequences are not contained and the data on the virus itself is not in yet.
It's time for us to come together. Join my live investor briefing for my detailed analysis and Q&A on what you can do about this.
Many people believe this is simply liberal media trying to make the President look bad with a stock market crash. Even if that were the case, it's working and the core issue is the global economy and financial system are weak. Any kind of economic slow down could have popped the bubble and how it's happened. Now it's time to act.