If you're serious about your retirement account, you've almost certainly looked at the investable alternative assets. There is a small subset of alternative assets and then there are ALL OF THE ALTERNATIVE ASSETS. A brokerage solo 401k plan is a small subset of alternative assets. A Solo 401k is ALL OF THE ALTERNATIVES!
While some less experienced investors use "individual 401k" and "Solo 401k" interchangeably, many differences separate the entrepreneur investor from the cookie-cutter investor. A brokerage solo 401k is more akin to a glorified cookie-cutter account.
What is a Brokerage Solo 401k?
Just like an employer-sponsored 401k, a brokerage solo 401k is tightly bound to Wall Street investing. Brokerage firms and insurance companies offer brokerage solo 401ks as a business owner-only retirement plan. You set these plans up with companies like Schwab, Fidelity, Etrade, and TD Ameritrade. They allow you to invest in stocks, bonds, mutual funds, and ETFs that are available only on their platform. This is only a small step up from most employer-sponsored 401k plans.
The employer-sponsored plans even further limit your investment choices to only a few categories such as bond funds, growth funds, and balanced funds. Inside of each of those fund categories, someone chosen by your employer is deciding on the specific mutual funds or stocks that your money is invested in. The reason a brokerage solo 401k is a step up from these is that you get to select the specific mutual funds or stocks that your money is invested in (as long as it is part of their platform).
With a Solo 401k, you can invest in anything that a brokerage solo 401k allows but that is only the beginning!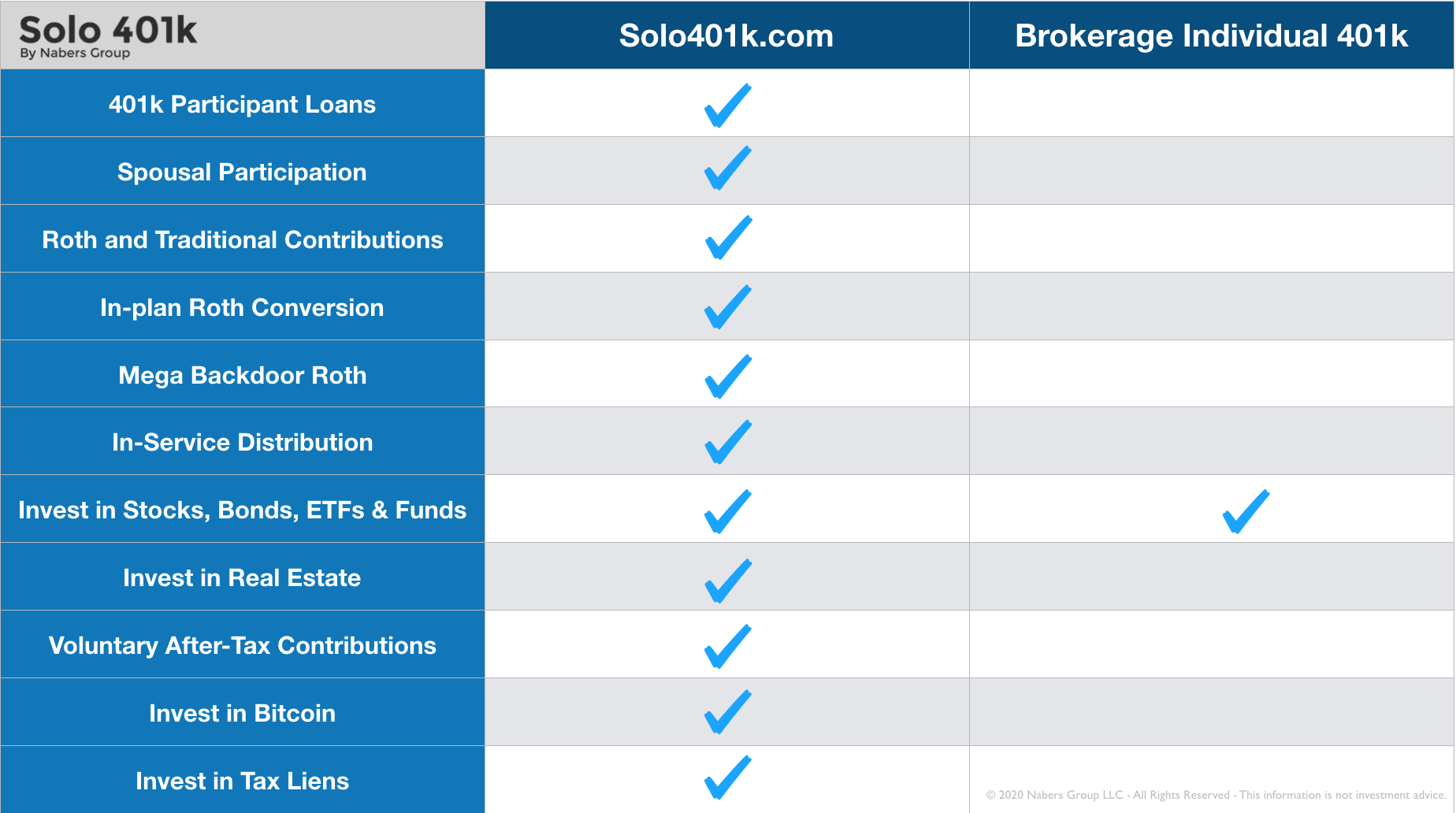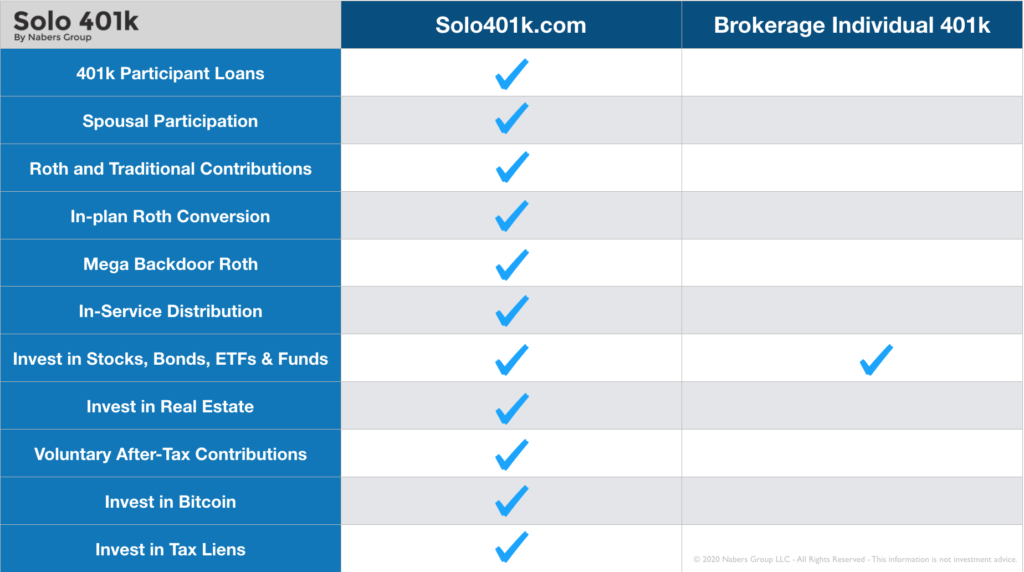 Checkbook Solo 401k Investment Alternatives
To start your thinking, consider commodities, capital lending, gold as a hedge against inflation, and anything else that has value. A few other investment possibilities with a Solo 401k include:
Promissory notes
Real estate syndications
Hedge funds
Foreign currencies
Oil and gas investments
Private stock offerings, private placements
Judgments/structured settlements
Tax liens
Factoring investments
Equipment leasing
Annuities
Options
Futures
Solo 401k Investing Options Are Varied
It really is all about your imagination and where you think your money will be both safe and grow substantially.
And get this, for that one checkmark on the brokerage solo 401k side of the chart, you get to pay a lot of fees and commissions to invest in what they allow you to invest in. It's a well-established business practice for brokerages to push financial products that they can make the most money from. Even with the fees and commissions, brokerage solo 401ks believe that they cannot be held responsible for what happens in their accounts.
With a Solo 401k, the account trustee (you) make all of the investments. So there aren't any transaction fees involved.
What Else a Solo 401k Can Do for Your Retirement Account
There are many benefits to a Solo 401k that go well beyond the ability to invest as you see fit. For starters, you have Checkbook Control and can take out a participant loan (borrow from your Solo 401k). Something else is that because of the COVID-19 pandemic, many exceptions have been granted to Solo 401k accountholders. And Nabers Group is right there to help you understand how to get the most from your Solo 401k during COVID-19.
But outside of the virus, there are still many more benefits that come with a Solo 401k; including:
Earn income with the business that is separate from the employer contribution to your Solo 401k.
Invest in life insurance.
Find a partner to invest with.
Establish joint ventures.
You choose and control the deals.
Avoid Unrelated Business Taxable Income (UBTI).
Invest in your retirement home today and rent it out until you retire.
Solid estate planning for a wealth legacy.
Solo 401K Retirement Plan – Take Control, Stay in Control
You want to be the center of your financial universe. You need to step up and take the action needed to become among the top 5% of Americans that retire rich – "the rich elite." Many people know what they want from life – wealth and happiness. Becoming wealthy means taking control of your money and making it work for you.
Investing can be either active or passive but it must throw off money. It must be cash flow positive. The two main requirements for your financial foundation are:
It must always be cash flow positive.
It must be recession/depression/inflation proof.
Cash flow positive is an easy concept to grasp. All it means is that after any investment expenses, you have a profit at the end of the month. The simple concept of investing is to make money.
Solo 401k accounts offer unique and unlimited investment opportunities. The freedom of making your investment choices allows you to leverage your investing and financial knowledge to invest in assets that you understand, trust, and believe in.
With that being said, Solo 401k retirement accounts do require an understanding of financial assets and the investment landscape. Be sure to educate yourself, and always consult an expert when required.
Dreams do come true when you plan for them and take action on the plan!
Every Nabers Group team member has and invests with his own Solo 401k plan. That means when you call our team with a question about your plan, you'll get an answer from someone who has gone through the exact same process as you, and who continues to use his Solo 401k to grow his retirement nest egg. We pride ourselves on providing the most flexible Solo 401k plan on the planet. You can invest in what you want, and when you want. There are no minimums to open or use your plan. You can contribute on your own schedule. You can change your adopting employer or plan trustees at any time. All without any hidden fees ever.